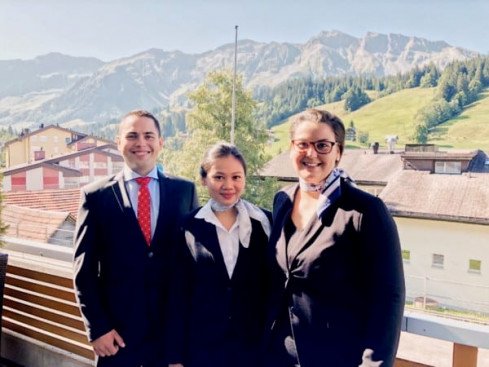 The dissertation of 12,000 words should be completed within 6 months of the completion of the taught courses,
The students will be given online support following the semester to assist them in doing this, as well as direct contact to a Supervisor who will provide advice and guidance. The topic should be based on the hospitality and tourism industry. This research is expected to be largely desk based, making use of academic resources.
Enrollment Cycles
March 2023
August 2023
October 2023
January 2024
To apply, students must complete an HTMi application form and enclose:
5 passport size photographs;
copies of school certificates or diplomas awarded; and work testimonials (if any). After receiving the application, HTMi may issue a Letter of Offer to the students. To receive the Letter of Acceptance, the student must then send the Down Payment directly to HTMi. The Letter of Acceptance is used to apply for the visa.
Optional Dissertation Course (20 weeks)
Work Placement / Internship (20-24 weeks)
Research Methods 40 Hours
Dissertation Planning 20 Hours
Literature Review Tutorial 20 Hours
Sampling and Sample Selection 20 Hours
Design of Research Instruments 20 Hours
Research Ethics, Consents and Approvals 20 Hours
Planning Primary Research 20 Hours
Methodology 20 Hours
Analysis of Findings Tutorial 20 Hours
Discussion and Conclusions Tutorial 20 Hours
Total 220 Hours